wmbcv-0708 (Diana Knight, Randy Moore) – The Adventures of O-girl & Nylonika – Obsession – Holly's New Uniform – Bondage Cafe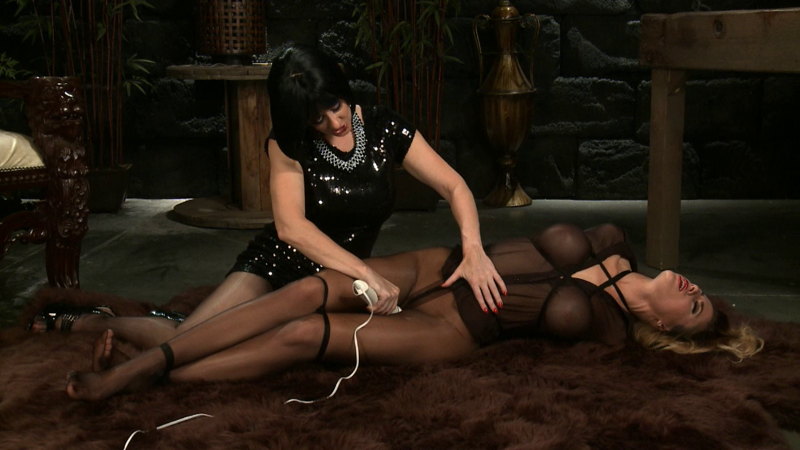 For forced orgasm friends: Download recommendation. Randy gets to cum.
Lady Lovelace (Diana Knight) isn't such a meanie all the time. Sometimes she needs a little girl time too. She's called Holly (Randy Moore) to her throne to see how things are going. Has she been naughty or nice? Turns out she's been naughty, just what Lady Lovelace likes. She describes how hot it was watching Allison Quivers sink in quicksand after mysteriously tripping to her fate. Lady Lovelace can see how sexually excited Holly is and has her crawl on all fours to her lap for a little one on one. It's SO hard for Holly to concentrate on her story as the waves of pleasure rush through her. The vibrator is certainly doing its job! BOOM! That was a good orgasm.
Next Holly gets her present. She must display her new uniform for her head Mistress. Slowly Holly strips out of her old uniform and into her new one. She glides her new pantyhose up her long legs, over her curvy hips while cupping her perfectly round ass. Lady Lovelace certainly approves. The flirting continues when Holly crawls to her Mistress's feet giving them all the attention they deserve. Licking and sucking each toe, kissing her way up to that sweet spot. Holly is certainly aiming to please. Will she make it to head girl?
Lady Lovelace shows off a new toy she's been playing with in the lab. They're so soft and silky. Holly instantly falls in love with the new stockings and begs to try them on. Lady Lovelace tightly ties them around Holly's elbows. Mmmm she likes it! Holly struggles in her sheer pantyhose and blouse. The stocking between her legs rubs her clit as she struggles on the rug. Lady Lovelace brings Holly to climax over and over again.
It's all good times until Holly realizes she's stuck! Lady Lovelace is very pleased. You see her latest contraption has started to take effect. Yes, her Sheer-tex! pantyhose were created to tighten when they reach over 98 degrees – which is exactly what they did on Holly. She's left to struggle with a ball gag shoved in her mouth so her protests are muffled.
Don't struggle to much Holly. Your Sheer-tex pantyhose will only tighten faster! I guess Lady Lovelace really is a bitch!