wmbcv-0735 (Angela Sommers, Randy Moore) – Curious Obsession 2 – Chapter 3 – Lure of the Strap – Bondage Cafe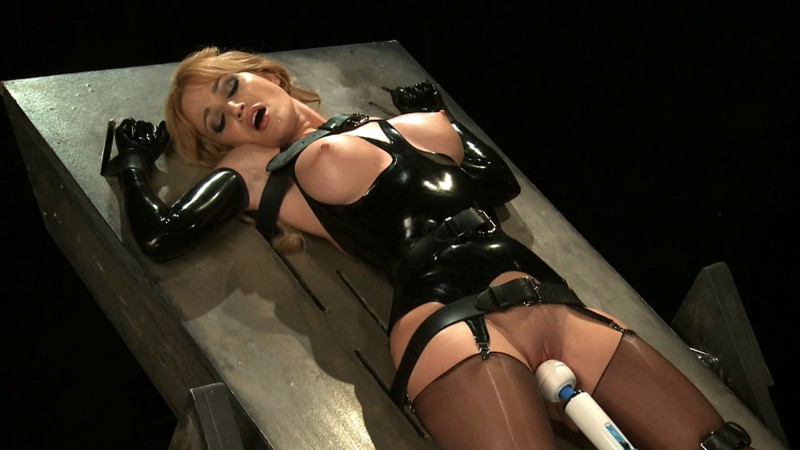 Angela wakes in the morning to find Randy gone. She puts on a robe and heads downstairs. In the kitchen is a note saying that she's been called into the office and will be a couple of hours. She tells Angela there are clothes in the closet and to make herself at home. Angela takes a look in the closet and to her surprise, it is filled with crazy fetish clothes. She pulls out a latex outfit, goes to the bedroom and puts it on. After putting the outfit on, Angela hears a phone ringing somewhere in the house. She follows the sound to Randy's secret bondage playroom. She answers the phone. It's Randy. She's tells Angela that she was looking for her phone. Angela looks around and lies, telling Randy that she found it in the kitchen. Randy explains she will be a couple of hours and leaves Angela to her own devices. Angela looks around the playroom and sees the bondage table. She can't resist. She climbs on, and straps herself in. Unfortunately, she doesn't have the remote, so when she puts her hands and feet in the straps they lock down on her and she is trapped. The vibrator between her legs slides into position and Angela is helplessly brought to orgasm.
After a couple of hours on the table, Randy comes home to find that her convoluted trap had worked to perfection. Angela took the bait and was now trapped on the table. She explains that Angela should have made certain that she had the remote release. She gags her, turns the vibrator to high, and leaves Angela to come a few more times. She returns and explains that Angela's bondage weekend has only just begun.