Bianca Beauchamp Latex Maid – Housewife For Life [105 photos pack]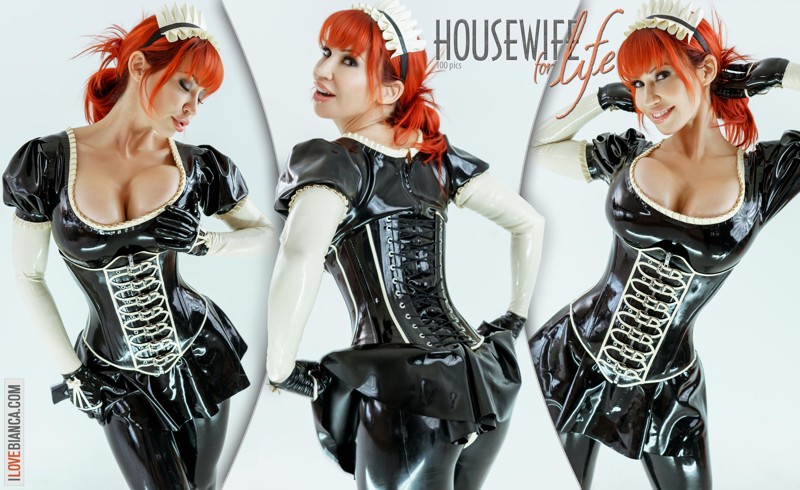 OMG! Get ready to get the kick of your life my naughty pervy rubberiest friend as this set will simply blow your depraved mind away! It's been a while now that I was considering to bring back the slutty maid cosplay but I just didn't wanna do the same type of latex maid photo shoots as I previously did in the past hence why I chose to go for a more heavy rubber version.
Composed of a pair of black latex tights, my favorite black with white frills maid latex mini dress, my black & white Murray & Vern rubber corset, some white latex gauntlets, custom made latex short gloves made and my white latex maid frill headbands, I have transformed myself into a more sexed-up and erotic version of the classic maid cosplay don't you think?! Oh and notice the white pump boots at my feet. Don't you just wish them to walk all over you, giving you both pleasure and pain as they sensually crush your nuts? :-p
And to make this erotic latex maid outfit stand out even more, I opted to model it in front of my ivory white backdrop at my photo studio. This way, all the light coming from the various photo flashes was bouncing and reflecting on my black latex maid outfit. My white studio as been requested by a few of you therefore there you go: it's back now.
So what do you say? Are these heavy rubber maid photos meet the kinkster in you? Come with me sugar you and I have some sexy clean up to do :-p
CREDITS:
Photos: M.P.
Latex: HW Design, Murray & Vern, Inner Sanctum, All You Need Is Gloves